USDC Overtook USDT in Popularity After FTX Crash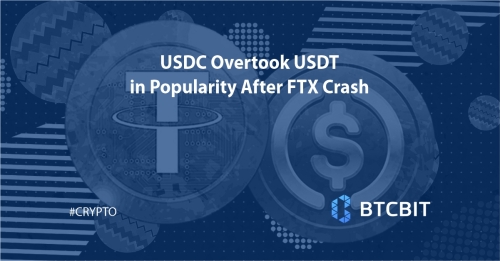 The popularity of the USD Coin stablecoin skyrocketed following the default of the FTX cryptocurrency exchange, according to analytics firm Glassnode. Users are more likely to choose USDC despite the convenience of USDT.

The stablecoin USD Coin (USDC) overtakes Tether (USDT) in terms of daily transfers, currently exceeding its competitor by four to five times. At the same time, the market capitalization of USDT is $23 billion more than that of USDC.
A surge in transfer volume was recorded for both stablecoins after the collapse of FTX. However, users were more likely to choose USDC, with an average transfer volume of $12 billion more than USDT. Currently, USD Coin is perceived by the cryptocurrency community as a safer stablecoin, despite the fact that USDT is more tradeable and has a strong peg to the US dollar.
Some believe that the monthly audits by the accounting firm Grant Thornton of the USDC, as well as the backing of short-term US Treasury bills, put the stablecoin head and shoulders above its competitor. Moreover, Tether has been criticized more than once for the lack of detailed audits.