The sharp rise in BTC caused a jump in shares of mining companies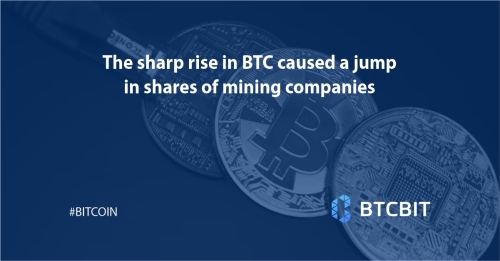 The MVIS Global Digital Assets Mining Index, which includes data on the top 20 miners such as Riot Blockchain, Galaxy Digital, Bitfarms and Iris Energy, has grown by 64% since the beginning of January 2023. This month, the indicator showed the largest increase since its inception in December 2021, according to Bloomberg. At the same time, Bitfarms securities have risen in price by more than 140%, Marathon Digital Holdings shares by more than 120%, Hive Blockchain Technologies securities have more than doubled.

The growth of miners' shares was caused by the recovery of the bitcoin rate. Since the beginning of January, the first cryptocurrency has risen in price by 26.5% - from $16,600 to $21,000. On January 16, the bitcoin rate updated its maximum for 4 months, exceeding $21,400.
Miner earnings have also increased on the back of the crypto market growth, despite the fact that the difficulty of bitcoin mining has risen to record levels and more miners are connecting to the network, increasing the hash rate. The Luxor Hashprice Index, which shows how much income a bitcoin miner can expect with a certain amount of hashrate, has grown by 21% this year.
However, industry participants note that it is not known how long the growth of mining company quotes will last. Cryptocurrency mining companies faced financial difficulties in 2022 and were forced to sell the mined cryptocurrency, return equipment, cut costs and staff.
In September, major hosting provider Compute North filed for bankruptcy and began financial restructuring. Core Scientific Inc., the largest bitcoin miner by computing power, filed for bankruptcy in December. Argo Blockchain avoided bankruptcy late last year as the company agreed to sell its Helios mining complex to Galaxy Digital.