Tether's share exceeded 51% in the stablecoin market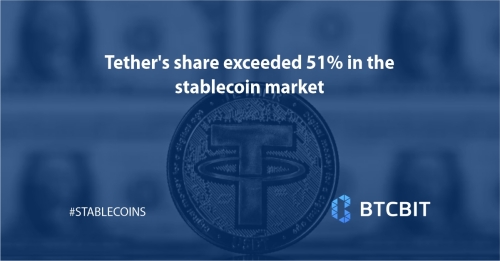 In the stablecoin market, the share of the issuer of the largest stablecoin by capitalization USDT for the first time since May 2022 amounted to 51.31%. This is evidenced by data from CoinGecko.

Second place is occupied by USD Coin (USDC) - 30.64% of the market. According to Coingecko, the total market capitalization of stablecoins as of Feb. 13 is $137.2 billion, of which the share of USDT is $68.4 billion. Binance USD (BUSD), the third stablecoin in the top, accounts for 12.09%.
Recently, BUSD has been in the media spotlight after the New York State Department of Financial Services (NYDFS) demanded that Paxos Trust stop issuing new Binance USD.
In early February, Tether released its reserves report and also reported $700 million in net income for the latest quarter. Tether representatives in the report assured that the entire net profit of the issuer was added to the total USDT reserves. Tether claims to hold $67.04 billion in various assets to ensure the liquidity of its stablecoin.