Tether is building mining farms in three countries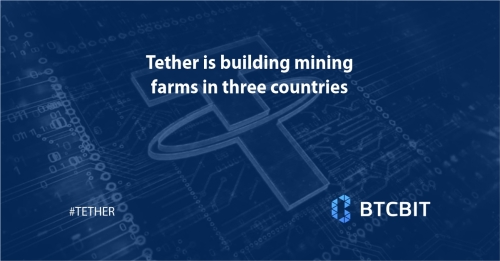 According to Tether technical director Paolo Ardoino, part of these funds will be allocated to Northern Data Group as part of a $610 million credit line. Tether will buy back part of the shares of the German mining company. The remaining funds will be used to build our own mining farms in various countries.

Ardoino said that Tether is already building mining farms in Uruguay, Paraguay and El Salvador. The capacity of the sites will be from 40 to 70 MW, and the total capacity of the company's equipment will reach 120 MW by the end of the year. This will allow Tether to take up about 1% of the total hashrate of the Bitcoin network. For comparison, the share of the largest mining company Marathon Digital is about 4%. In the future, Tether plans to increase mining operations and reach 450 MW of device power by the end of 2025.
"Mining is a fairly new area for us, so we need to learn and grow. But we are not in too much of a hurry to become the largest miner in the world," said Tether's CTO.
Now the company is also considering one of the locations where it is possible to place 300 MW of equipment. At the same time, Tether places the devices in large containers so that, if necessary, the farm can be quickly transported to a new location.