Is It Possible Censor and Control Bitcoin?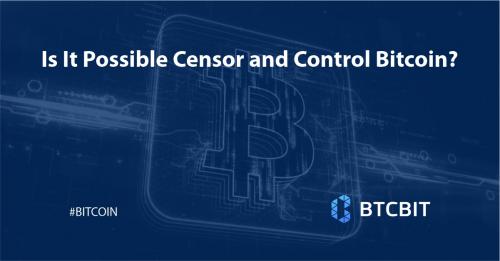 Recently, there has been a recent debate in the world of cryptocurrency about the possibility of control, censorship, and surveillance in cryptocurrency. Using Bitcoin as a model, there was a recent debate on cryptoverse about the topic, and some top stakeholders in the cryptocurrency world were part of the conversation.
Some of the participants in the debate included Alex Gladstein, who is the Chief Strategy Officer of the Human Rights Foundation and also an advisor to Blockchain Capital, a venture capital company. On the other hand, there was Kevin Sekniqi, who is the co-founder and chief protocol architect at AVA labs, a blockchain startup.
The conversation started with Gladstein giving his views on the advantages of using Bitcoin. However, not everyone agreed with his points on the inability of regulatory bodies or governments to interfere in the activities of the coin; some even went on to give instances of surveillance and censorship by government agencies.
One of the people that disagreed with these perspectives was Sekniqi, who quickly released several responses to the responses which he simply referred to as
"unfortunate series of Bitcoin narratives." He further added that although Bitcoin was a technological breakthrough, it was not as invincible as people made it sound.

He then further gave possible instances of regulation for the cryptocurrency:
• Network Layer
Cryptocurrency, just like other protocols, depends a lot on the internet network.
• Protocol Level
Considering that Bitcoin is a "synchronous Byzantine fault-tolerant" ledger, it can be censored if the government only 'tackles' its proof-of-work.
• Legal
Also, a coordinated multi-government ban of Bitcoin can have serious negative effects on the coin's marketing capitalization, causing a global cascading effect.
• Privacy
Also, considering that Bitcoin is not private, all activities carried out on it are public and can, therefore, be mass surveilled.
• Monopolization
Private companies can also choose to monopolize Bitcoins.

The argument between Sekniqi and Gladstein quickly lasted for over one day, with several other people coming online to take different sides. However, it soon became a war of altcoins, and this was understandable considering that AVA labs are responsible for Athereum, which was an experimental Ethereum testnet. Many users claimed that Sekniqi's project could not be compared to BTC.
Tim Swanson, who is the head of market intelligence at Clearmatics, also joined in the conversation stating the Gladstein, himself was promoting a coin. Gladstein has, however, responded with several videos to defend his stance on the topic. Some of the valid counter arguments he raised included:
• Although it was theoretically possible to block people's access to the Bitcoin network, it was not happening currently, even in areas where the government has a lot of control e.g., China.
• Also, even if access was blocked, there were still existing technologies being developed that might serve as workable alternatives e.g., Blockstream satellite.
• With respect to privacy also had the tendency to miss how powerfully pseudonymous and permissionless BTC was, except for a few instances of costly government attacks. Even if all miners were working for the government on a KYC (know your customer) approach, it would still be challenging to get information on what addresses belonged to who, and it was improbable that governments would share this information with each other e.g., US and China. Apart from this, there were also coin mixers that help improve the privacy on the Bitcoin platform.
• Also, a band might have countereffects as it has been shown that people tend to show increased interest in things that were banned by the government. This can make the enforcement of a ban difficult in most instances, more so banning an open-source and permissionless virtual currency. This is almost impossible. Although Bitcoin can be mass-surveilled, it is not easily done at all. There are a number of tedious steps involved in the process, making Sekniqi's statement quite about Bitcoin mass surveillance somewhat flawed.
• Another supposed false statement from Sekniqi is that corporations can control Bitcoin. Several miners and exchangers have tried this and have failed. Bitcoin is a decentralized platform.
This comment was the last major comment in the argument. However, several reactions continue to trail the conversation on Cryptoverse. The discussion, considering its complex state, is not expected to end anytime soon. However, one thing is sure for now. Bitcoin is not regulated by any government, and its users and their valuables are very much safe.