Peter Johnson from Brevan Howard Digital: "Stablecoins are the gateway to the crypto space"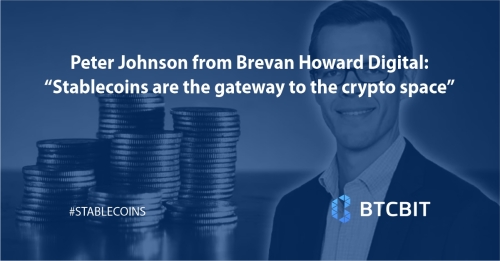 Peter Johnson, in a conversation with the founder of Morgan Creek Digital, Anthony Pompliano (Anthony Pompliano), noted the growth in the adoption of stablecoins, despite the volatility of the cryptocurrency market. The growth is due to the fact that stablecoins provide fast transactions with low fees and increase people's access to banking services, allowing them to make payments seamlessly. Therefore, stable cryptocurrencies are becoming more and more attractive to users from different countries, the expert argues.

The number of active crypto addresses sending stablecoins continues to set new highs, Johnson noted. Moreover, transactions are made not for the sake of speculation on the crypto market, but for purposes not related to trading.
Financial institutions have increasingly adopted stablecoins to move funds between exchanges and fund investments, Johnson said. Despite the fact that USDT and USDC are pegged to the US dollar, stablecoins are spreading fastest outside the US, said Brevan Howard Digital top manager.
Stablecoins should not be considered rivals of bitcoin, the expert believes. On the contrary, they can become a gateway to the world of cryptocurrencies for new users, and in the future, these users can start trading and investing in cryptocurrencies. Used in the payment industry, stablecoins contribute to the spread of blockchain at the mass level.