Future Governor of California: Palihapitiya May Hold a Prominent Position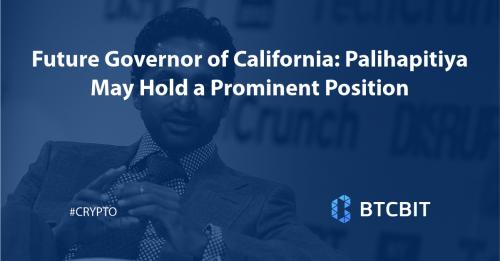 Politics is a place where you can find a lot of people from different areas of social life.  Crypto advocates are part of the striking world of politics. One of them is Chamath Palihapitiya. He is the well-known chairman of Virgin Galactic. Chamat has announced his candidacy for governor of California. Many experts believe that his bid is the one that everyone should pay attention to. 

Palihapitiya is known as a proponent of the first cryptocurrency. Previously, he called digital gold the best remedy against autocracy and currency restrictions, as well as the only insurance against the risks of the traditional financial system. He has a great chance at becoming a winner in this rally. According to the latest data, he has much more chances and opportunities than former bitcoin (BTC) politicians.
Dreams About Becoming a Governor
Elections in November 2022 are going to be hot. Palihapitiya announced that he has a firm plan to bring his stake in US political life. To confirm his intentions in the political struggle for the position of the governor of California, he organized a website on the Internet. It was there that he invited all residents of the United States and everyone interested to find out more about his plans and promises. 
CEO ideas have a great future and are popular with many of his followers. Palihapitiya proposed:
● zeroing taxes in the state, 
● raising teachers' salaries,
● introducing benefits for each newborn.
Big Future
Because of the experience of similar variants of running for governor, many did not believe in this idea and considered it a failure in advance. For example, consider the story of Brock Pierce. Together with his "Brock the Vote" campaign in 2020, he received very disappointing results in the survey. However, the Palihapitiya campaign and ideas have nothing to do with it. Experts and fans predict a great future for the defender of the cryptocurrency and success in his business. 
Many believe that the first results of his activities will not be long in coming — they can be expected even before the elections in 2022. However, the founder of Social Capital did not comment on the election program. He also did not specify from which party he plans to nominate himself.
The Situation with the Current Governor
Gavin Newsom — Governor of California from January 2019 may fail. There are suggestions that he will receive a recall. And there are reasons for this: many residents are not happy with his policies in the face of a global pandemic. At this time, his fellow campaigners do not let the idea of petition pass. They argue that state law requires over a million people to sign a petition to recall the politician. There is still time until March, although even then it is assumed that the number of signatures will not pick up even 1.3 million.
Nevertheless, the petition might be successful — this cannot be ruled out. In this case, California will have an election later this year. Palihapitiya did not stand aside. He supported the participants in the petition and urged all residents of California not to be silent. Social Capital CEO continues to campaign for his henchmen on his social networks.
Chances of Success
In terms of elections, the chance of Palihapitiya is impressive, even regardless of the timing of the leadership race. Of course, no less important is whether he will keep his promises or not. Although this is still ahead — the path of the battle for primacy has just begun.
The Republican Party is going through hard times after the last days when Trump was still president. Thus, Newsom can receive the main challenge from the candidate from this party.
Left-field candidates have already had electoral success. Take Arnold Schwarzenegger, for example. He has held office since 2003 and completed a term in 2011. However, the "governor" was the 2003 GOP. American politics does not exist without the obligatory support of the big parties. Even the politician needs it.
What Future Holds for Palihapitiya 
Other cases are also known. It is worth remembering the actor of the 80s, action star Jesse Ventura. He succeeded in running for governor of Minnesota from 1999 to 2003. At that time he was a representative of the Reform Party.
The popularity of Palihapitiya can be explained quite objectively. The California electorate is made up of the largest number of BTC supporters. Surprisingly, according to Google Trends, only Internet users in Nevada and Hawaii have shown more interest in Bitcoin, than California residents.
The chance that Palihapitiya will be one candidate who supports bitcoins cannot be discarded. Ballot boxes can be full of different personalities who are interested in this. Take Kanye West, for example. The rapper is also known for preferring cryptocurrency. He also mentioned that he could join the fight for the office.
Comedian and talk show host Dave Rubin may be another candidate. In Fox News last year, he talked about his intentions to get involved in the political struggle. Also, podcaster Tim Dillon shared his plans on social networks.