Everything about Mining Cryptocurrency: 17 Best Digital Tokens to Mine in 2021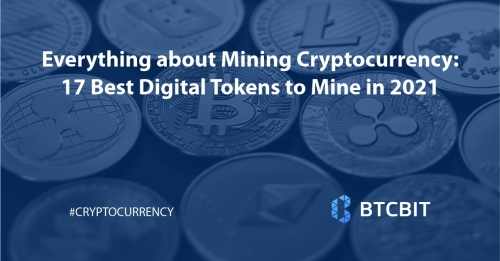 What to Use to Mine Crypto Coins?
Buying specific equipment is not necessarily the only way of getting digital tokens. Check out the three available ways of getting crypto coins in the sections below.
CPU
This way may be outdated, but it's still an option. The CPU is based on mining by using a computer processor. You just need a powerful quality CPU to get started, but the method has several disadvantages. For example, it mines slowly but "eats" a ton of electricity. 
GPU
This method is much better since you get to mine faster, more efficiently, and what's even more important, multiple digital coins. The method is based on a video card, with its help, you mine coins. The disadvantage of this option is the huge amount of electricity it takes to use the GPU.
ASIC
If you want to become a professional miner, ASIC is the way to go. The build-up looks like a component of a computer, but can only perform mining actions. It mines faster, consumes less energy, and overall guarantees more profit. 
Methods of Crypto Mining
Now that you know what equipment to use to get your digital tokens, you need to figure out the methods of mining. You would be surprised, but there are several of them.
Solo
The obvious way of getting coins. You simply buy equipment, set it up, and start mining. The drawback of such a method is that you rarely get rewards for solving algorithms. The benefit is that the reward is higher. 
In a Pool 
Joining a pool means that you join a group of miners that solve algorithms together. You get rewards more often, but they are split between all miners of the pool. The benefit is obvious - combined hash power allows you to get rewards frequently, but they are smaller. 
Cloud Services
The option was created recently. It means you use the services of miners. Usually, there is a website where you get to choose what coin to mine, and how much you get. You pay for the package of your choosing, and within a month get your reward. 
Choosing the Best Coin to Mine
Before you decide what digital token to mine, it's important to verify that it's a reliable coin. Here are a few factors to consider:
- Exchanges that support the coin. Make sure you check exchanges to see whether you can withdraw that coin without huge commissions, otherwise it won't be profitable.
- Calculate the potential value of mining a certain coin and investing in equipment. If you are purchasing an ASIC, check how long it will take for it to get paid off. Don't forget about bills for electricity. If within several months you will start getting pure profit, it might be worth investing in this token. Check the forecasts to make sure the coin won't be devalued in the future. 
- Make sure that mining in your country is allowed. You may be surprised to hear that, but if you can buy and trade the coin in your country, state, or region, it doesn't necessarily mean you can mine it. If it's not allowed where you live, better go buy tokens. 
You could also consider checking whether the coin you wish to mine can be exchanged for fiat money. Or at least to the most popular cryptocurrencies so you could benefit from mining. 
The Best Coins to Mine in 2021
If you don't know where to start, you can check this section for ideas. Choose a few names that you like, and check these coins by using the requirements from the previous section. The following 17 coins are rather popular and are supported by several popular exchanges:
- LiteCoin (LTC);
- Ethereum Classic (ETC);
- Dogecoin (DOGE);
- Bitcoin Gold (BTG);
- Dash (DASH);
- RavenCoin (RVN);
- Vertcoin (VTC);
- DigiByte (DGB);
- Aeternity (AE);
- Monero (XMR);
- Zcash (ZEC);
- Grin (GRIN);
- Metaverse (ETP);
- Cardano (ADA);
- VeChain (VET);
- BitTorrent Token (BTT);
- Monacoin (MONA).
All mentioned above coins meet the requirements described in this article. Mining one or several of these tokens may give you an edge and earn a significant profit.