Cryptocurrency EOS grew by 10%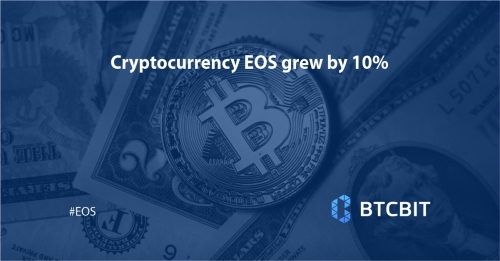 This growth pushed the market cap of EOS to $853,2010M, 0.07% of the market cap of all cryptocurrencies. Previously, at its peak, the capitalization of EOS was $17.5290B.

Over the past 24 hours, the EOS currency has been trading in a range of $0.7361 to $0.8024.
Over the past 7 days, EOS has shown an increase in volume in the range of gained-pct. The volume of EOS in the last 24 hours was $402.5263M or 0.76% of the total volume of cryptocurrencies. It has traded between $0.6544 and $0.8024 over the past seven days.
Currently, the price of EOS is still below 96.63% of its peak value of $22.98, which was reached on April 29, 2018.
Meanwhile, other cryptocurrencies
Bitcoin was trading at $30,561.8, down 1.46% on the day.
Ethereum traded at $1,924.30, up 3.59%.
The market capitalization of Bitcoin was previously $593.4150B or 49.56% of the market capitalization of all cryptocurrencies, while the capitalization of Ethereum was $231.4342B or 19.33% of the total cryptocurrency market.