Blockchain Life 2018 Saint Petersburg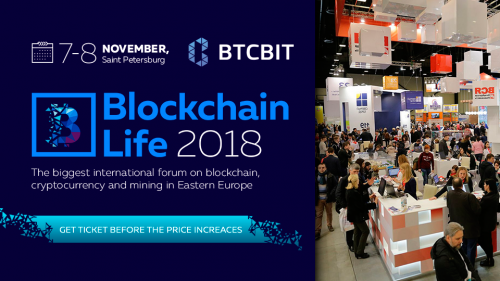 Dear Friends! We are pleased to announce that BTCBIT has become a partner of the biggest international forum on blockchain, cryptocurrency, ICO, and mining - Blockchain Life 2018!
On November 7-8 in St. Petersburg, the 2nd annual Blockchain Life forum 2018 will bring together 5,000 crypto traders, ICO project owners, leading private investors and crypto funds, entrepreneurs and blockchain experts, owners and representatives of the world's exchanges and miners from more than 70 countries.
Within the conference part, the leading experts of the Asian, US, European and CIS markets prepared their speeches. In the report, each speaker provides actual case studies on earnings or experience in building a project in the most promising sector of today.
Among the speakers: Sergei Khitrov (Listing.Help, Icotop.io), Martin Kuvandzhiev (Bitcoin Gold), Maximilian Marenbach (Kraken Exchange), Vyacheslav Bredikhin (BITMAIN), Wu Xing (Huobi Exchange), Aldrich Victorino (Okex Exchange), Charles Cai (Dalian Wanda Group), Jason Hugh (WBO), and other leading international industry professionals.
The first list of speakers is available on the website. During 2 days more than 80 experts from all over the world will speak for the attendees.
For the first time in the forum leading companies of the industry will compete for the title of the best in its segment within the annual award Blockchain Life Awards 2018.
Become a participant of the most large-scale event in Russia and Eastern Europe right now! Hurry up to buy your ticket at the cost price here:
https://blockchain-life.com/
Sincerely,
The BTCBIT Team