Anthony Scaramucci: "The worst of this crypto winter is over"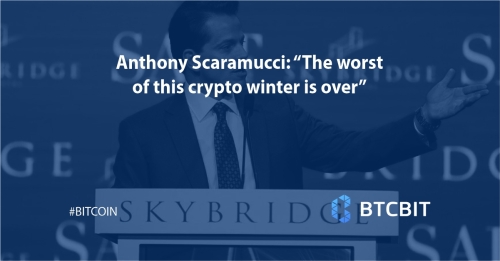 Speaking at the Messari Mainnet conference in New York, former White House communications chief Anthony Scaramucci said that the bear market is behind us, so there is no need to rush to sell Bitcoin. The younger generation of investors will bring Bitcoin to the masses in the same way that older generations brought the Internet to the mainstream. According to Scaramucci, Bitcoin will be used on a large scale in the next 10–20 years.

"If you have bitcoins, don't sell them, you've already been through a bad crypto winter," said the founder of SkyBridge Capital.
Scaramucci believes that there are still obstacles in the macroeconomic environment that hinder the adoption of Bitcoin. These include high interest rates, hostility from the US Securities and Exchange Commission (SEC) towards cryptocurrencies, and generally negative sentiment towards the adoption of crypto assets. However, according to an experienced investor, Bitcoin has much better prospects than gold, the purchasing power of which has increased significantly over the past 50 years.
"Society spends part of its wealth on digital assets, predominantly Bitcoin. Bitcoin is better than gold," Scaramucci noted.
He added that Bitcoin ETFs will help widespread adoption of Bitcoin once they become commonplace among corporate investors. Every Wall Street company will have a cryptocurrency ETF in its arsenal and sell it to its clients. As a result, the Bitcoin market will expand, concluded the head of SkyBridge Capital.
SkyBridge Capital has submitted an application to the US regulator to launch a Bitcoin-linked spot ETF back in 2021. Last year, Scaramucci noted that Bitcoin had outperformed many tech stocks despite the crypto market's steep decline.