K33 Research: Bitcoin futures trading volume fell by 57%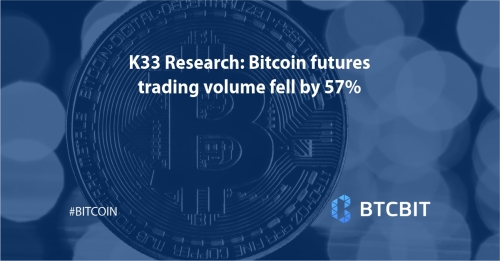 K33 senior analyst Vetle Lunde and vice president Anders Helseth noted in the report that spot bitcoin futures trading volumes have fallen 57% since early September. At the same time, according to experts, the key catalyst for the decline was a 48% drop in trading activity on the Binance exchange. While the total volumes of BTC spot trading on other cryptocurrency exchanges remained at a relatively stable level.

K33 Research analysts argue that the negative direction is dictated by the information agenda associated with cryptocurrency market participants, and not by fundamental macroeconomic trends. Because over the past week, along with Bitcoin futures falling by 17%, open interest in Ether futures has fallen.
The cryptocurrency market reacted to the fact that one of the largest exchanges in the crypto space, Binance, faced a number of problems and was subject to repression from regulators in many countries. For example, the UK, Belgium and Brazil, where serious concerns have been raised about Binance's ability to navigate the complex landscape of international financial regulations.
The market value of Bitcoin on the day of September 20 was fixed at a level slightly exceeding $27,000. The price parameters of BTC over the past few days have shown horizontal development in the range from $27,000 to $27,200.
Despite the fall in investor activity on the BTC futures market, analysts at cryptographic services provider Matrixport believe that the massive filing of applications to launch spot Bitcoin ETFs is revitalizing the digital asset market and could prove to be a catalyst for future growth in the value of digital assets.