Stablecoins and tokens based on Taproot Assets will appear on the Bitcoin network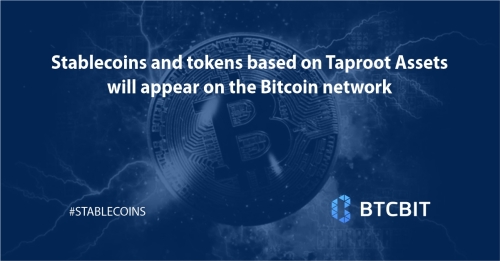 According to the developers, the current version of Taproot Assets v0.3 provides a "full set of functions" for creating, managing and using stablecoins and other assets based on the Bitcoin network.

"We believe that a new era is dawning for Bitcoin. This network will feature a myriad of world currencies in the form of tokens based on Taproot Assets, and currency exchange between countries can be carried out instantly using the Lightning Network," said Ryan Gentry, head of business development at Lightning Labs.
He added that the integration of Taproot Assets with the Lightning Network solution will increase the network's influence and take a step towards the "bitcoinization of the dollar." It is the Bitcoin blockchain that should become the global routing network for the Internet of money. According to Gentry, the demand for Bitcoin-based stablecoin functionality among developers is "overwhelming."
The developers said that in recent months, about 2,000 different tokens have been issued as part of Taproot Assets testing. With the launch of the alpha version of the project, their number will increase significantly, because many community members will have access to it.