The daily volume of fictitious transactions with NFTs on the Ethereum network has reached 50%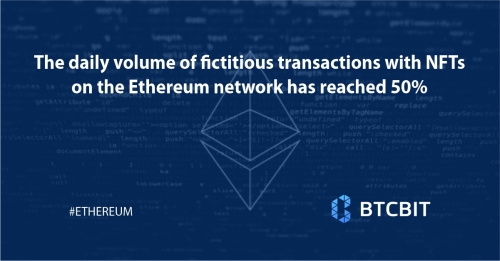 Wash trading, a form of market manipulation, involves the sale and purchase of NFTs or cryptocurrencies by the same person with the goal of artificially inflating trading activity and misleading other market participants.

According to DeFiLlama, last week the share of fictitious transactions on the Blur marketplace exceeded 40%. And according to Dune, since July it has amounted to about 20% or $220 million of the total trading volume. At the same time, the performance of Blur's main competitor, OpenSea, is significantly lower - only 0.5% from September 18 to 24.
On February 22, Blur announced the start of an airdrop of 300 million native BLUR tokens, one of the conditions for participation in which was activity on the platform. On the same day, a user under the nickname MachiBigBrother sold 536 NFTs, including a token from the BAYC collection for $128,000.
According to CryptoRank, Blur's airdrop was the sixth largest in the history of the crypto industry. This initiative likely contributed to the growth of flushing trade at the site.
However, in mid-April, trading volumes on the largest NFT marketplaces fell to their lowest level since November 2021. On April 19, the number of unique users was 7,805, and transactions were 16,149.
On September 22, OpenSea urged users to replace their API keys due to a third-party vendor being compromised.