Tether has tightened control over the world of stablecoins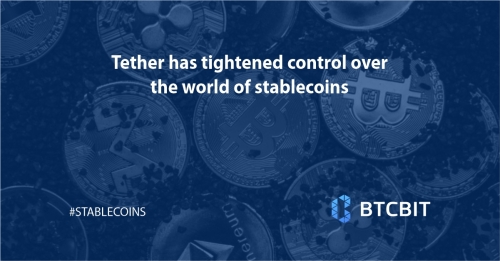 The recent announcement by New York-based Paxos Trust Company, which issues the stablecoin Binance, that it will stop issuing new BUSD tokens after U.S. regulators flagged the asset as an unregistered security shook the $137 billion stablecoin market, Reuters writes.

The actions of US regulators have led investors to question the future of the stablecoin market, that is, tokens that are usually backed by traditional assets such as dollars and US Treasury bonds.
But the market reaction was by no means negative; in fact, the total value of stablecoins has even risen by $2 billion since the Paxos announcement on February 13th.
At the moment, competing currencies are trying to capitalize on the problems of BUSD, the third largest stablecoin in the world, whose market value has decreased from $16.1 billion to $12.9 billion, and its market share has decreased from 12.1% to 9.4%, according to CoinGecko.com.
Specifically, Tether (USDT) increased its market capitalization by $1.9 billion to reach $70.3 billion after the news. It now controls 52.6% of the stablecoin market, up from just over 51% previously.
Circle's USD Coin, the second largest stablecoin, surged over $700 million to $42 billion, increasing its market share from 30.9% to 31.3%.
This growth of BUSD's main competitors is due to the fact that stablecoins are a key part of the cryptocurrency market, and their more stable value means that they are used to facilitate transfers between cryptocurrencies or into regular cash. Traders also use these tokens to hedge their positions.
At the same time, this news did not seem to have much impact on the cryptocurrency market: Bitcoin rose by 14% over the past week to $24,902, ignoring fears that central banks will continue to raise rates.
According to analytics firm Kaiko, one of the reasons for this is that BUSD is mainly used for trading on Binance, the world's largest cryptocurrency trading platform, while its use is limited in other parts of the crypto world.