Jamie Cutts of Bloomberg Intelligence: "Stablecoins will soon overtake Bitcoin in popularity"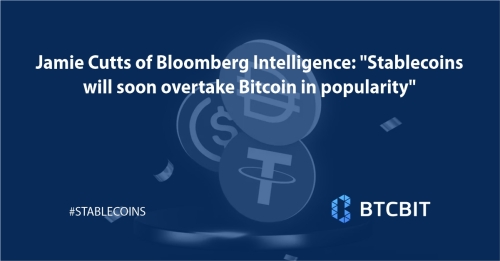 Coutts suggested that in the next three to five years, depending on market factors, the widespread adoption of stablecoins will happen much faster - compared to bitcoin. Reason: More and more major financial institutions are showing interest in stablecoins and are even trying to follow the example of PayPal (NASDAQ:PYPL), a payment company that recently launched its own dollar-pegged token, PYUSD.

In 2021, the payment operator Visa (NYSE:V) introduced a solution for the interaction of stablecoins, digital currencies of the Central Bank and cryptocurrencies, and in March 2023, the Mastercard payment system (NYSE:MA) introduced a cryptocurrency card supporting stablecoins Stables. Recently, one of the largest e-commerce platforms Shopify (NYSE:SHOP) added support for the decentralized payment protocol Solana Pay, which allowed customers to pay with stablecoins.
According to a Bloomberg analyst, payment companies that ignore this type of crypto asset are missing out on many opportunities, including increasing the speed of payments. Still, the use of stablecoins for settlements may be limited by the capabilities of blockchains, since open networks are not able to provide the same scalability as Visa or Mastercard, Coutts noted. Solutions for scaling the Ethereum network of the second level - Arbitrum and Optimism, as well as the Base blockchain, which can make transactions cheaper due to the introduction of proto-dunksharding, known as EIP-4844, can become a way out of the situation.