Fees On Ethereum Chain, DeFi Tokens, CBDC In Bahamas, DLT and Filecoin, Other Crypto News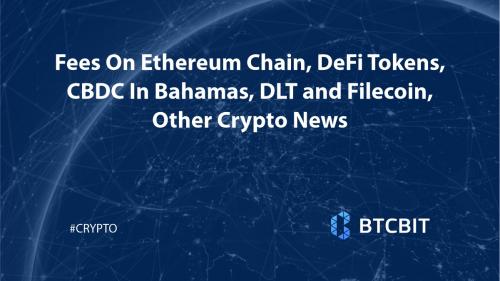 The crypto world has been expanding during recent years and there is lots of news to follow. This article is dedicated to DeFi Tokens And Transaction Fees on Ethereum
Ethereum users as well as ETH holders may have a reason to finally celebrate - the median transaction fees within the Ethereum blockchain system have dropped significantly. While it may be a reason for ETH holders to celebrate, DeFi users have a reason to worry.
As you may already know, the median fee on September 2nd was 8.48 USD which is an extremely high price. Today, the median fee for a transaction has dropped to 1.3 USD.
AAVE Tokens
Even though it was mentioned that DeFi users won't benefit from such a drop, there is one particular project that may return some hope. The Aave platform (lending system) has introduced a new platform for governance that will allow all the users within the community to vote whether they like to upgrade the LEND tokens to AAVE.
This interesting proposal is supposed to make AAVE the new token for governance within the Aave system. It is stated that 1 AAVE token will be equal to 100 LEND tokens which seem to be a great way to persuade users to vote for upgrading.
Spadina Ethereum 2.0
The Spadina Ethereum 2.0 went live several days ago, on September 29. It has been announced that Spadina Ethereum is a test network (a mainnet-configuration network), and it is supposed to be operating for 3 days parallelly to another network called Medalla (launched back in August 20202).
Due to the statement of the developer of the project, the idea behind it is to give developers another chance to go through such difficult parts as genesis and deposits right before everyone reaches the mainnet.
CBDC In Bahamas
Interesting news from the Bahamas. It seems that they are determined to give a hard time to such leading world economies as the United States, EU nations, and China by releasing a central digital currency that is called CBDC. It is planned to be released around the end of October 2020.
The official statement of the Central Bank of The Bahamas claims that they will keep releasing the digital variant of the national currency which is the Bahamian dollar. The full release will take place during the next year.
Filecoin and DLT
Cryptocurrency enthusiasts have some interesting news to follow. The news is related to DLT and Filecoin:
● The decentralized storage network known as Filecoin has once offered the most ICO of 2017. It claims that it will launch its mainnet around the mid of this month (October 15). It is also estimated that upon launching this process, they will monitor the process as well as solve occurring problems, and then they will hold a Filecoin Mainnet Liftoff. This will trigger a week of certain events to celebrate Filecoin's successful mainnet launch. The events will take place around 19-23 October.
● EY OpsChain Network Procurement has been recently launched. It's a project by one of the most well-known professional services - EY company. The idea behind this is to allow all companies to use the solution to operate private, end-to-end activities on the Ethereum chain system. Today, the company has announced that they have released only a beta version of a project, but separate users may start using it for free as well as reporting issues if they take place.
● Nexo, which is known as a regulated financial institution for crypto tokens, is now an official credit partner to the Litecoin Foundation. The reason behind this partnership is officially stated by the companies. It is said that they want to offer better access to financial services to the users of both systems. Another reason is to advertise and help blockchain systems to be adopted as a better finance marketplace.
Other Crypto News
Companies related to cryptocurrency also have some interesting options to offer to digital money enthusiasts:
● Ebang, a mining hardware manufacturer has announced a preparatory stage of starting blockchain exchange and brokerage platforms. And as it was planned by the company, they will also launch an offshore exchange assets platform.
● Bitfinex company has already launched the perpetual contracts for GERMANY30IXF0:USTF0 and EUROPE50IXF0:USTF0 known as Germany 30 and Europe 50 accordingly. These contracts allow users to gain up to 100x leverage each and it is settled in USTD. The markets were open during the weekend after the launch of contracts on September 28. But the company has announced that soon they will put some price limits to enable the stability of prices.
And it should also be noted that recently, the digital asset investment manager known as Wave Group, has announced a partnership with InvestaX. The reason for that is to attract more investors for the Wave Kentucky Whiskey 2020 Digital Fund.