CNBC Analyst: "Only Five Altcoins Will Survive With Another Market Drop"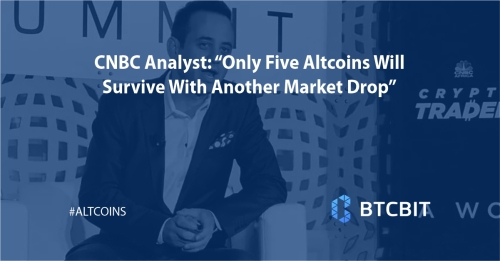 On an episode of Crypto Banter, cryptocurrency influencer Ran Neuner spoke about the immediate prospects for cryptocurrencies. According to his forecast, in the face of the next market crash and uncertainty in the regulation of the industry, only a few crypto assets will be able to flourish.

Neuner emphasized that large financial companies are having an increasingly significant impact on the upward trend of the cryptocurrency market. He explained that institutions mainly use complex financial instruments such as options and futures, and this may indicate a loss of interest in spot trading.
Given the strong market volatility, Neuner advised investors to carefully evaluate altcoins for their investment portfolios. The analyst firmly believes that the upcoming market cycle will be significantly different from the previous ones, so it is extremely important to have a stable position in order to avoid possible losses. It is important to pay attention to the real utility of the crypto asset and its market viability. According to Neuner, XRP has these traits.
The crypto analyst believes that in order to "survive" in a bear market, XRP must exceed its previous high of $3.3, and Bitcoin must overcome $69,420. Cryptocurrencies BNB, ADA, SOL, DOGE, DOT, LTC and MATIC also have something to strive, the analyst believes.
"It is better not to become emotionally attached to the chosen cryptocurrencies, otherwise it can become a serious trap. The market does not care about belonging to a community; he is only interested in what works and what doesn't," the crypto enthusiast warned.
Neuner is not the only one who believes in the potential of XRP. Last year, Matt Hamilton, former director of developer relations at Ripple, made a bold prediction that XRP would hit $100 in the future.