Bitcoin threatens to fall below $30,000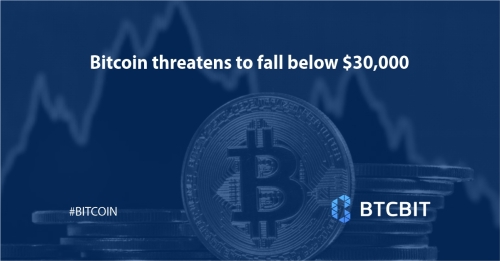 It should be recalled that the growth of BTC and the cryptocurrency market as a whole last week was fueled by several ETF registration applications from such large financial companies as BlackRock (NYSE: BLK), Wisdom Tree and Invesco.

However, after the initial euphoria surrounding the hope that the SEC would approve these ETF filings as they came from longtime players in the traditional financial field, the market began to have doubts as the SEC's hostile stance towards the crypto industry, as well as several ongoing lawsuits, mean that the credibility of the regulator could be at stake if these ETF applications are approved.
In other words, crypto traders seem to be starting to consider the risk of disappointment if the SEC rejects recent bitcoin ETF filings.
It should also be noted that this week will be full of economic events and speeches by representatives of central banks. Therefore, macroeconomic news will also be important for predicting the development of events for bitcoin.
Technical Thresholds for Watching Bitcoin
Chart-wise, a return of Bitcoin below the $30,000 major psychological threshold would be a major bearish signal.
In this case, the $29,000 area and then the area formed by the 100-day moving average at $27,900 and the $28,000 threshold would be the first supports to look out for.
On the other hand, the $31,000 threshold and the $31,400 yearly high form the first major resistance zone for Bitcoin.