Bitcoin Rises To $24,000 Amid Launch Of Event Contracts On CME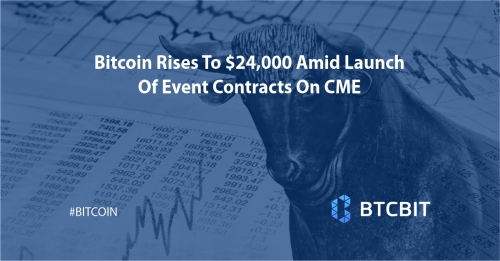 The American stock exchange CME announced the launch of event-based futures contracts for bitcoin. In addition, the panic about American banks has subsided, so the BTC price has risen by 10%.

Now the first cryptocurrency is trading at $24,475. The growth was 9.6% per day. As trader and cryptocurrency analyst Michael van de Poppe pointed out, it looks like bitcoin has returned to the bullish trend and is likely to continue rising unless macroeconomic factors intervene again.
Conventional futures contracts on CME are settled in fiat money and have a daily expiration date. Tim McCourt, head of stocks and FX products at CME Group, said the new product will give site customers "a cheaper way to trade bitcoin."
"Our new futures contracts provide a wide range of investors with access to the cryptocurrency market through a fully regulated exchange with a low market level and high transparency. More than 550,000 contracts have been traded to date," McCourt said.
In addition, the fall of two large banks in the US that work with crypto companies has led to pressure on the industry. Regulators have said all Signature Bank deposits are safe and will be released soon. But about Silicon Valley Bank, there are conflicting reports. However, Circle has re-pegged the USDC stablecoin to the US dollar, which appears to have given traders back confidence in the crypto industry.