Bitcoin price tops $19,000 for the first time since November 2022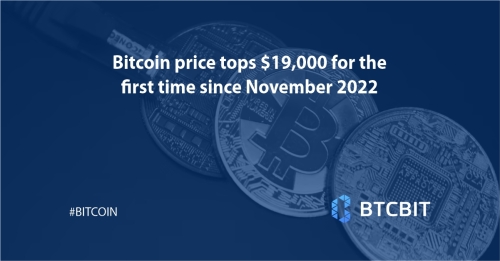 Bitcoin jumped above $19,000 to its highest level since November. The largest cryptocurrency began 2023 with positive dynamics - the price of bitcoin has consistently increased over the 12 days of January. Traders bet on lower US inflation, CNBC reports

Bitcoin on Thursday, January 12, rose in price to the level of November 2022, exceeding $19,000 per token. The market believes that the worst for the cryptocurrency is over, experts interviewed by CNBC assessed the situation with the bitcoin rate. The world's largest cryptocurrency by capitalization has been growing since the beginning of January, but its price is 74% below the peak value of $68,990, the all-time high of November 2021, the TV channel reports.
Bitcoin started 2023 with positive dynamics - its price has been growing over the past 12 days. Other digital currencies were supported by a jump in Bitcoin prices - Ether, the second largest coin by capitalization, rose in price by almost 5%, to $1397.78, and the Binance BNB crypto exchange token - by 3%, to $283.
"Bitcoin has been in a downtrend for over a year now, which is a standard bear market period for cryptocurrencies," Vijay Aiyar, vice president of corporate development and global affairs at crypto exchange Luno, told CNBC. According to him, the impact of many of the negative events that occurred last year in the digital currency market is declining, which is a sign that "the pressure on selling is easing, and therefore we are moving into an accumulation stage." "It could also mean that the market thinks the worst is over for crypto," Aiyar added.
Bitcoin is down about 74% from its November 2021 all-time high of $68,990. Nearly $1.4 trillion was wiped from the crypto market in 2022 as traders dumped riskier assets such as growth and technology stocks. The digital currency market has increased its correlation with major stock exchange indices such as the Nasdaq Composite. The fall was also driven by issues related to cryptocurrencies, including the collapse of projects and companies such as FTX and Terra.