Bitcoin Has Almost Reached USD 50k Again - Ethereum And Altcoins Prices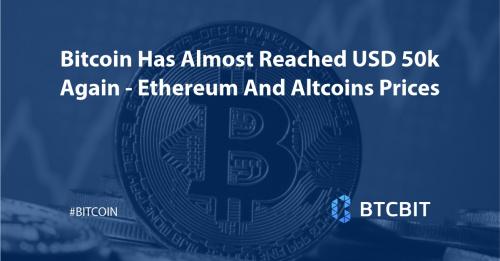 The price of 1 BTC is USD 49.965 and it seems that the coin might soon hit 50k dollars again. For a while now the price of bitcoin remained below USD 50.000, but the price kept steadily rising. It has almost reached 50k dollars again, and the chances are high that in the nearest future we will see it happening.

BTC is not the only promising cryptocurrency that might rise in price. Just a few days ago the price was slightly above USD 1.450 (March 3, 2021), and today it has reached USD 1.725, and the prices seem to be growing. Moreover, XRP-USD shows promising results as well. A few days ago the price of this altcoin was below USD 0.450, and today it has reached USD 0.466
The Cost Of Bitcoin
A while ago, Bitcoin reached a new maximum level of 50 thousand dollars, but it soon has been corrected. For a while, it remained below 48 thousand dollars. Then Bitcoin dropped in price a bit more and for a while, BTC traded right below USD 47.000 level. But now, it shows some promising results and has reached USD 49.965 for 1 BTC. It seems that we'll see Bitcoin rising to USD 50.000 level in the nearest future considering its price today.
Specialists predict that if BTC manages to close each day above USD 50.000 level, then it might reach the price of USD 52.000. But at the same time, instead of reaching new levels, it could drop below USD 48.000 level again. Moreover, the first important support is around 47 thousand dollars. Meaning, the next price of BTC might be around 45.000 dollars.
The Price Of Ethereum
A few days ago, ETH has reached USD 1.500 but couldn't remain above the new level. But recently, it has reached USD 1.500 again and managed to stay right above this price. Moreover, the price kept rising and now the cost of 1 ETH has reached USD 1.725 and might keep growing.
But even if the price of 1 ETH reaches a new level, it doesn't mean that it will stay on the same level. The reason behind this statement is that the main support of ETH is around 1.450, so it's highly unlikely that it will remain above 1.500 dollars.
The Costs Of BNB, ADA, Litecoin, and XRP
Other cryptocurrencies or altcoins have managed to reach new levels as well.
Binance (BNB)
BNB or Binance Coin has been struggling for a while now to reach the new levels of resistance of above USD 250 and USD 255. Today, the price of BNB is $230.82 It means that BNB might settle towards a new level of $240 rather than $250.
Its support is around 232 dollars, so it's highly unlikely that it will go lower than 230 dollars. On the other hand, its price should settle towards more than $250 to guarantee a successful upward move in price.
Cardano (ADA)
ADA or Cardano is currently sold for $1.145. Recently, it has managed to reach USD 1.200 level. Specialists were predicting two possible situations - it could reach $1.300 if it climbs above $1.250, or it could fall below $1.050. In the future, we will see whether ADA manages to climb back, or if it falls below its current price.
Litecoin (LTC)
LTC or Litecoin is sold today for a price of $182.50. Recently, it has managed to break resistance levels of USD 185 and 188. If LTC manages to reach the new level of 200 dollars, it could keep growing in price. If it breaks the barrier of 200 dollars for 1 LTC, the next price could be at around 212 dollars. The next barrier it might break in this case is 220 dollars. Unless instead of growing in price, it will be falling below USD 180 level.
Ripple (XRP)
Recently, the XRP has managed to break through the USD 0.432 level. Today, its cost is at $0.469 and it seems that it might reach the USD 0.500 level in the nearest future.
The Prices Of Other Altoicns
Recently, a plethora of altcoins has managed to gain over 10%. The list of altcoins gaining more than 10% includes the following coins: MANA, THETA, XEM, ENJ, EWT, OCEAN, CRV, BAT, XTZ, KSM, RSR, STX. Moreover, the ENJ coin has managed to grow significantly in price. Recently (March 1) the market was closed at 0.657 for ENJ. But today (March 8, 2021), the cost of ENJ has reached USD 1.67! Within a week, ENJ grew twice in price.