Altcoins Fast Becoming Payment Option?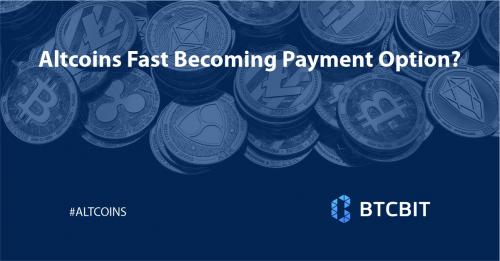 There have been several movements into payments over the past year. More users are beginning to explore the use of cryptocurrency in payments. Interestingly, more altcoins are also coming for bitcoin (BTC). Ethereum, EOS, ADA, EOS, XRP, and several other altcoins that were considered initially as only utility tokens are now being considered as payment options. Several third-parties are also beginning to build payment services around them.
According to some comments from some stakeholders in the payment industry, several reasons are responsible for this shift: From the development of Libra by Facebook to the growth of several stablecoins and blockchains offering higher scales. More altcoins are beginning to consider their use in payments considering their ability to satisfy demands in this industry.

Increased Payment Options
Cardano announced the launch of Adapay, a crypto payment system in November 2019. Adapay was aimed at merchants, and it allows users to accept payment in ADA, which can almost immediately be processed in any of the 35 fiat currencies accepted on the platform. This trend has been recurrent among several altcoins over the past year. XRP, for instance, was initially targeted at financial institutions that were looking out for real-time gross settlement systems, and we're now expanding into payments generally. It announced a deal with Intermex, a money-transfer service, in February. The aim of the deal was to provide remittance services between Mexico and the United States. In October, Xpring, a developer initiative announced also announced a major collaboration with BitPay, a platform that process crypto payments. In the deal, BitPay would help merchants accept XRP as a payment means.
These collaborations show that even while not all altcoins are not launching novel payment systems, the possibility of signing deals with already existing payment platforms makes their job easier.
Also, in September, BitPay made an announcement that it would begin to accept payments in ETH, keeping in mind that GoCoin had also announced earlier that would start to accept EOS and ETH in addition to BTC. There are several other examples of third-party companies that have begun to adopt cryptocurrencies as means of payments in their organizations. Wirex, a digital payment services provider, also announced the launch of the Wirex Visa Travelcard in November, which was designed to enable users to spend XRP, ETH, and other cryptocurrencies abroad.

What is Causing the Movement?
A lot of stakeholders might be wondering why the movement of altcoins in payment systems. According to the operation lead at CoinPayments, Sean Mackay, the development of Libra and the seemingly increasing interest of governments in blockchain and cryptocurrency, has caused several private organizations to get involved.
Recent discussions on Libra has shown a trend of organizations moving away from cash payments and towards digital currencies. This seemingly higher demand for crypto-based payments is also influenced by the speed and efficiency of these cryptocurrencies. Based on this, several companies have begun to meet this seemingly rising need.
Some other advantages of Blockchain payments include the delivery of better customer experiences than traditional payment methods. And according to Bill Zielke, the CMO of BitPay, while these advantages of using crypto-payment platforms are not surprising, the rate at which users are adopting these platforms is quite shocking.
Zielke further pointed out top brands like AT&T, APMEX, and Dish, who had also begun to accept cryptocurrency payments using BitPay. The goal of this was to attract new users and sales.

Encouraging Growth
Although, still in its early days, several payment service providers have also reported that there has been an encouraging growth rate in the adoption of payments using altcoin. The marketing manager of CoinGate, Veronika Mishura, also commented that the company added about ten new currencies over the past year.
Zielke also pointed out that BitPay had only begun to accept XRP, ETH, GUSD, PAX, and USDC. Despite this, the company had noted significant potential in the provision of the preferences of their customers. From the data obtained from CoinPayments figures, 5% of the payment volume in February and January were using Tether, and the cryptocurrency also represented 32% of the payment volume of the platform.

What Does the Future Hold?
Several speculations now exist on the future of altcoins as means of payments. Most users have suggested that Bitcoin and these altcoins can coexist as payment means, especially when the prices of these coins begin to stabilize, and it becomes easier for merchants to liquidate their coins.