Analysts predict an increase in the share of stablecoins on crypto exchanges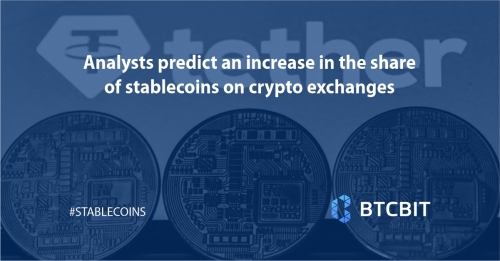 With the closure of Silvergate's SEN payment system, stablecoins are likely to become even more mainstream among cryptocurrency traders. The share of their trading on crypto exchanges may grow even more, writes RBC with reference to the report of the analytical platform Kaiko.

The Silvergate Exchange Network (SEN) instant payment network has been widely used by crypto exchanges, market makers and investors to transfer US dollars instantly around the clock. At the end of 2022, Silvergate had 94 crypto exchanges and almost 900 institutional investors among its clients. On March 3, the bank announced the termination of SEN.
Despite the fact that the share of stablecoins compared to the US dollar in cryptocurrency trading has already grown in recent years, the closure of the popular payment system and pressure from US regulators on the crypto industry will further reduce the share of the dollar in the portfolios of crypto traders, analysts say.
Since 2017, the market share of Tether (USDT) trading volume against the US dollar against Bitcoin has grown from 3% to 92% according to Kaiko. At the same time, analysts note that in 2022, a noticeable increase in the share of Tether occurred after the Binance crypto exchange canceled commissions for trading the BTC/USDT pair.
Kaiko also points out that US dollar trading in the crypto market is weakening after the collapse of the FTX exchange. Judging by the volume of Bitcoin trading, the share of the BTC/USD pair continues to fall, while the trading pairs with Bitcoin in EUR, Tether and USDC have been gaining momentum since November 2022.
With the growth of the stablecoin market, the number of new fiat trading pairs listed on exchanges has declined, according to Kaiko. In 2022, the number of new USD-denominated trading pairs on all crypto exchanges dropped to 326 from 400 compared to 2021, the number of pairs with the British pound fell from 54 to 4.