$100,000 or $180,000: experts argued about the growth of bitcoin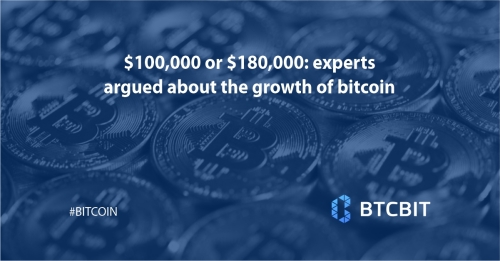 According to analysts, the Bitcoin price rally may be just beginning. On Sunday, the price of bitcoin was $29,000, several pips below the important $30,000 resistance point and slightly below the all-year high of $31,000, writes Invezz.

An analyst at Standard Chartered (LON: LON:STAN) predicted that Bitcoin could rise to $100,000 in the coming months. And he's not the only one who thinks so. Another Bloomberg analyst said that BTC will hit $50,000 on rising halving enthusiasm.
Now Bloomberg has shared new predictions about the price of bitcoin. One of the reports says that bitcoin could jump to $105,000. The analyst pointed to the fact that BTC has been rising for the last 4 months in a row. Last time it was up 260%. As a result, if this happens today, it will mean that the currency will reach $105,000.
Some analysts believe that the price of bitcoin could rise much above this mark. For example, a BCA analyst stated that BTC could rise to $160,000 if its market capitalization approaches 25% of the value of gold. In particular, Jamie Douglas of Bloomberg Intelligence stated that bitcoin could jump to $185,000 if only 1% of the value of the global bond market is transferred to this currency. However, this is unlikely at the moment.
There are many bullish catalysts for the price of BTC. First, there are signs that the banking crisis is still not over with the near collapse of First Republic Bank. And given that many regional banks are heavily involved in commercial real estate, there is the possibility of more failures. In a statement to the FT, Charlie Munger said:
"Things are not as bad as they were in 2008. But problems in the banking industry happen just like in any other. When times are good, bad habits are made… When times are bad, too much is lost."
Secondly, analysts cite the rarity of bitcoin, as its supply limit is only 21 million coins, and most of them have already been mined. Third, they note that it is a good alternative to gold, which is widely regarded as a hedge against inflation. Finally, Bitcoin seems to be in a cycle ahead of a halving (halving) in the middle of next year. In a note, one analyst said:
"The crypto market also has cycles, only in the past they were driven mainly by crypto-specific factors. Now the crypto market has many driving forces, which complicates everything and opens up new investment cohorts for the market."
If these analysts are correct, this means that other altcoins have a long way to go due to the existing correlation. This is good for altcoins like Solana, Ethereum, Stellar, Cardano and Litecoin.