Bitcoin up 6.5% to over $30,000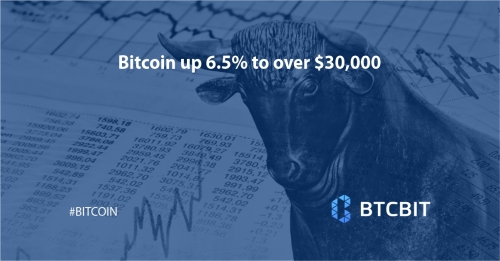 The rate of the first cryptocurrency continues to grow - on the morning of April 11, the indicator exceeded $30,000, which was the maximum over the past 10 months.

The bitcoin rate almost reached $30,500, but then slightly rolled back and now BTC is trading at $30,090. The last time the rate of the first cryptocurrency reached this level was in June 2022, but then it declined significantly.
Analysts note that this level is extremely important for bulls - if buyers manage to gain a foothold above $30,000, this will open the way for them to new heights. However, not everyone is as optimistic. For example, a Twitter user under the pseudonym WhaleWire believes that this is just a pump:
"Bitcoin's rise is artificial – Tether issuing billions of USDT, they inject fake liquidity to lure real liquidity into the cryptocurrency space, and then withdraw their tokens again once they attract enough newcomers." Indeed, the capitalization of the largest stablecoin has grown by $14 billion this year. However, it is worth noting the decrease in the capitalization of such tokens as USDC and BUSD. Analysts at Santiment also noted that whales moved 22,000 BTC ($655 million) amid the rise of Bitcoin.
Recently, analyst Willy Woo presented macro indicators, which, in his opinion, confirm the upward trend of the first cryptocurrency in terms of capitalization. He expects bitcoin to continue to rise further.