Bitcoin mining difficulty increased by another 7.56%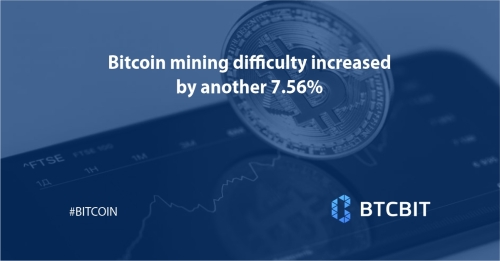 A new recalculation of the complexity of bitcoin mining showed a new record - the figure increased by 7.56% and reached 46.84 trillion hashes.

The previous Bitcoin mining difficulty record was set on March 14, when the figure reached 43.55 trillion hashes. According to the bitcoin mining table on Bits.media, in two weeks the figure could increase by another 11.57%.
The difficulty of mining in the network of the first cryptocurrency is recalculated about once every two weeks. The indicator depends on the network hashrate - the higher it is, the higher the complexity becomes.
The indicator has been growing quite steadily since 2021, when the Bitcoin hash rate dropped significantly after the ban on mining in China, and difficulty fell after the hash rate. But since then, the miners have moved the equipment and continue to buy new ones, so the hashrate is growing.
The day before yesterday, March 22, the bitcoin rate rose to almost $29,000. However, after the announcement of the US Federal Reserve System (FRS) to increase the rate, the cost of the first cryptocurrency decreased to $27,000. Now bitcoin is trading at $28,000.
Earlier it became known that the Fear and Greed sentiment indicator in the Bitcoin market updated the maximum of greed for the first time since November 2021. Usually, when the indicator is in the greed zone, one should buy BTC with caution. The best time to buy is when the index is below 25. Now the index has reached 68.